Company Name

SMALL WORLDS Inc.
Description of Business

Planning, research & arrangement of leisure facilities
Management of leisure facilities
Model development
Manufacturing, sales, etc.
Address

Ariake Logistics Center B3, 1-3-33, Ariake, Koto-ku, Tokyo, 135-0063
Date of Establishment

November 9, 2016
Capital

100 Million yen (As of January 31 , 2023)
Shareholders

LAC Inc.
CP GROUP (Bangkok, Thailand)
BS-TBS, INC.
JTB Corp.
DENTSU INC.
RYUBO INDUSTRY.,LTD
MILESEUM Inc. (Anyang, South Korea)
Lawson Entertainment, Inc.
Daiwa House Industry Co., Ltd.
Palm Springs Group (Beijing, China)
YOSHIMOTO KOGYO HOLDINGS CO., LTD.
OCEA GROUP Co., Ltd.
AXWELL PARTNERSHIP FUND2 Investment Limited Partnership
Masahiro Kondo
SMBC Nikko Securities Inc.
Keiichi Sasaki
Création Investment, Inc.
SHIN-NIHON TATEMONO CO.,LTD.
Akio Kondo
Donuts Co. Ltd.
THE LAND ASSOCIATES PTE.LTD
Robot Consulting Co.,Ltd.
Aoyama Mainland
Insight Co., Ltd.
UEX HOLDINGS Co.,Ltd.

(As of January 31 , 2023)
Management

CEO : Masahiro Kondo
Executive Vice President:Shigeru Kimura
Managing Director : Yasushi Kubota
Director : Zhimin Xu
Auditor : Yoshiro Kubota
Executive Director : Shoji Kawamori
Executive Director : Mayumi Kosaka
Executive Director : Makiko Takemura

(As of January 31 , 2023)
Introduction of SMALL WORLDS' representative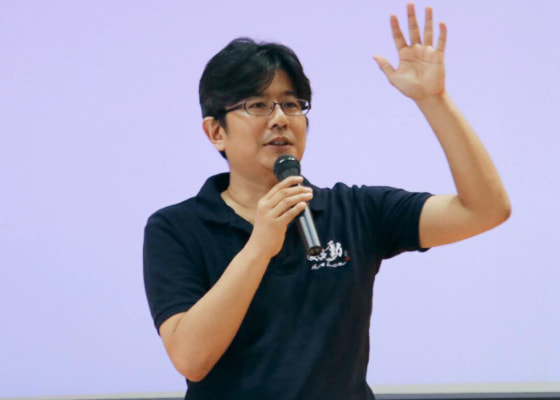 in charge of all business
He graduated from School of International Politics, Economics, and Communication of AOYAMA GAKUIN UNIVERSITY. After working for the Investment Planning Division of Financial Solutions Unit of Mitsubishi UFJ Trust and Banking Corporation, he served as the director of Yahoo Japan Corporation's mobile strategy office. In 2015 he joined WILx (World Innovation Lab), where he was responsible for the planning and operation of domestic programs "Shido Next Innovator 2015" and "Shido Next Innovator 2016" launched by the Ministry of Economy, Trade, and Industry (METI).